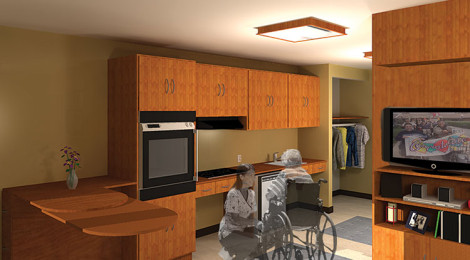 ---
A.L.P.H.A. House Feasibility Study
---
Apartment Living for Physically Handicapped Adults (A.L.P.H.A.) is a one level apartment complex located in Windsor, Ontario. The apartment in association with the Association For Persons With Physical Disabilities of Windsor and Essex County (A.P.P.D.) provides accessible housing and assistance to those with disabilities that are still capable of a certain level of independent living.
The complex has under gone some minor renovations in an attempt to accommodate the spatial needs of adults with disabilities. Our office has proposed a complete interior renovation to better accommodate the special needs of the residents. In consultation with the pending Accessibility for Ontarians with Disabilities Act (AODA), we have designed new accessible living quarters with larger washrooms and kitchens to accommodate wheelchairs and other aid devices. Widened doorways and improved lighting in common areas providing residents with better access throughout the complex.
---
Di Maio Design Associates Architect Inc.
---