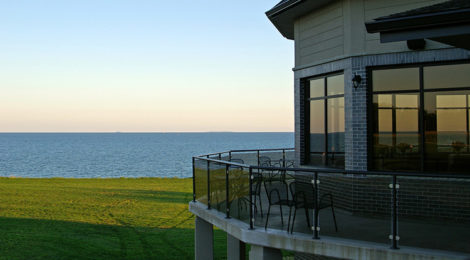 ---
Viewpointe Estate Winery
---
Integration with Nature and the Site was the goal in this design solution. Spirited buildings always have similar inextricable connection with its natural world. Rather than designing from a preconceived plan, we built this winery to relate to the unique features of the site, often using material indigenous to the area.
Situated along Lake Erie, Viewpointe Estate Winery reflects the local traditions of Essex County through food and wine.  Using local and natural materials such as field stone observed along the West façade presents an organic, yet well grounded environment white enjoying a tasteful glass of wine.
The facility houses many spaces from manufacturing and bottling of wine, below grade barrel room, to the assembly spaces educating guests, a reception area for special events tasting rooms and retail areas for customers to purchase the estate wine.
This expansive structure supports various technical wine making equipment, sanitation equipment, climatic control for spaces used in the underground barrel room, and a fully-appointed retail facility.
In addition, Viewpointe Estate Winery is a multi-functional building which houses events such as weddings, wine tastings and cooking classes, all in coordination with walk-in customers while continuing to operate at the winery's fullest potential.

PROJECT DETAILS
Project size: 30,00sq.ft.
Total value: $6.5 million
Key Features:
Wine tasting Room
Kitchen and Lounge space
Wine Retail space
Underground Barrel Room
Bottling facility
Formal dining room
Commercial kitchen
Architect of Record:
Date Completed:
July 2006
---
Di Maio Design Associates Architect Inc.
---