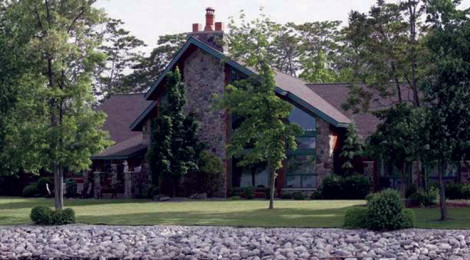 ---
Private Retreat & Training Centre
---
Situated in LaSalle, Ontario, the site provided a secluded backdrop for a new mixed-use building. The building combines training facilities, meeting rooms, gathering spaces, and residential components. Conceptually the main idea revolved around integrating the natural beauty of the island with the geometries and material choice of the building.
The building forms a symmetrical 'wing-like' shape which contours the island's shore; providing the major program spaces with waterfront views. The roof lines are designed to produce dynamic wings of canopies. These gestures, along with the finish colours allow the building to dissolve into its natural environment, in keeping with the wooded site and the existing field stone.

PROJECT DETAILS
Project size: 11,000 sq.ft.
Total value: $4.0 million
Key Features:
Timber frame construction
Teaching & training facility
Remote site
Date Completed:
September 2001
Owner:
B.A.S.F.
---
Di Maio Design Associates Architect Inc.
---