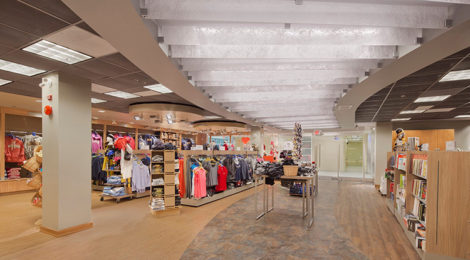 ---
Campus Bookstore, University of Windsor
---
The new Campus Bookstore is the University of Windsor's primary retail facility on campus, marketed as a one-stop shop for all course materials, supplies, and school spirit merchandise. Located in the basement level of the CAW Student Centre building at the University of Windsor, a major design requirement was that the space feel bright and welcoming. A warm palette of rich materials and bright lighting gives the space an inviting open feeling, not typically found in basement spaces. An interesting mix of materials was used including glass, metal mesh, hickory wood, clear anodized aluminum, decorative acrylic panels with embedded gold mesh and blue ribbon strands, luxury vinyl, textural wall coverings, quartz, high-gloss laminate, penny-round glass mosaic, and ground-face architectural masonry.
The bookstore's relocation came in step with the University of Windsor's rebranding as part of its 50th anniversary. To further align with the Bookstore's new identity and future technological advances in post-secondary learning practices, spaces such as the Technology department were expanded. To meet the students and alumnus requests to proudly display pride in their school, significant spaces were allocated in the design for branded UWindsor apparel and other merchandise, including full glass storefront display spaces flanking the interior mall front entrance.
With a foundation of learning through books, a winding "spine" path, like leafing through the pages in a book, guides customers through the store from both the interior mall entrance and the exterior terrace entrance. The brightly lit path leads customers through the retail space with planned retail displays flanking the edges, from apparel and supplies to laptops and smartphones.
The retail space also includes an inviting lounge with mobile device charging stations and fireplace, as well as an adjacent space available to be used for staff meetings, training, group study, and book signing events. The bookstore design also includes "back-of-house" spaces such as administrative offices, and shipping and receiving warehouse and work spaces, with a highly-successful solution now in operation.
The project renovation also included new public washrooms, and adjacent space allotted for a future student lounge/café. The bookstore layout was designed to allow for visual interconnection between both spaces and shared use of the exterior terrace for dining, sidewalk sales, and other events. The bookstore design also included fully-detailed design of all retail fixtures and selection of loose furniture. The entire project design is fully accessible according to the Accessibility for Ontarians with Disability Built Environment Standard.
Photography by Dan Reaume

PROJECT DETAILS
Project size: 10,000 sq.ft.
Total value: $2.0 million
Key Features:
Book Display and Storage
Custom Architectural Millwork
Ceiling Baffle Treatment
Coordination of all Retail Display
Architect of Record:
Date Completed:
Owner:
---
Di Maio Design Associates Architect Inc.
---